WCSO's Lt. Robert Curtis has retired his 9-year-old K-9 partner, a Belgian Malinois named "Rocky," who was responsible for recovering millions of dollars in cash and illegal narcotics in addition to a number of felony arrests. He retires as one of the most highly decorated dogs in Tennessee.
Sgt. Curtis said it was a difficult decision because he was such an exceptional dog. "Rocky and I have been together since 2008," he said. "We started training when he was only nine months old, but I knew right away Ole Rock was going to be something special."
"Special" was an understatement for the K-9 who along with his handler Lt. Curtis took first place in Criminal Apprehension, third place in Obedience and for the second time won the coveted Jimmy D. Anderson Memorial award for the highest combined scores in apprehension and obedience in 2015. Lt. Curtis and Rocky initially won the Jimmy D. Anderson award in 2012 after winning 2nd overall, 1st in Criminal Apprehension and 2nd in Obedience. In 2011 Lt. Curtis and Rocky also won 2nd in Criminal Apprehension.
Lt. Curtis said Rocky has had four felony criminal apprehensions on the street over the years in Wilson County and helping other agencies nearby. He has detected "well over a million dollars worth" of narcotics and currency in addition to performing numerous demonstrations to educate young people and adults alike about how K-9 teams work. "Rocky has an unbelievable desire to please with a huge drive to work. It's been a great pleasure to work with a partner like Rocky. He's a one of a kind dog."
Almost two years ago, Lt. Curtis said he doubted he could work with another dog after racking up one of the highest awards in the state for a K-9 team. At that time, he said "I really can't see myself working another K-9 after being with such an exceptional dog for so long. He knows what to do and what I'm thinking sometimes before I do." But he has begun training with a new dog. "It's gonna be tough the first time I go to work with my new partner K-9 Molly, but Rocky will have a well deserved laid-back retired life with me."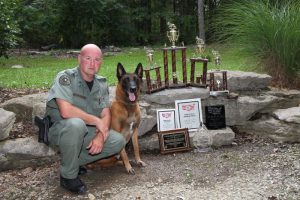 "This Office has been extremely lucky and we are proud to have had such a talented team," Sheriff Robert Bryan said. "Those who benefit the most are the people of Wilson County who can be assured they have had and will continue to have a superior K-9 partnership working for them."