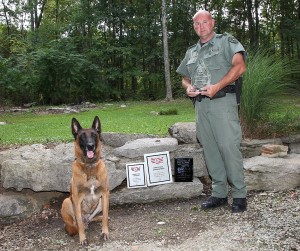 Wilson County Sheriff's Sgt. Robin Curtis and his K-9 partner Rocky took home some top honors during this week's annual Region 13 PD-1 Trials, competing with 28 other dogs across the region.
Sgt. Curtis and Rocky took first place in Criminal Apprehension, third place in Obedience and for the second time won the coveted Jimmy D. Anderson Memorial award for the highest combined scores in apprehension and obedience. Sgt Curtis and Rocky won the Jimmy D. Anderson award in 2012 after winning 2nd overall, 1st in Criminal Apprehension and 2nd in Obedience. In 2011 Sgt Curtis and Rocky also won 2nd in Criminal Apprehension.
"Rocky has a unbelievable desire to please with a huge drive to work," said Sgt Curtis of his partner with whom he has been work since 2009. "It's been a great pleasure to work with a partner like Rocky. He's a one of a kind dog."
Sgt. Curtis said Rocky has had four criminal apprehensions on the street over the years in Wilson County and helping other agencies nearby. He has detected "well over a million dollars worth" of narcotics and currency, Sgt. Curtis said.
"This Office is extremely lucky and we are proud to have such a talented team," Sheriff Robert Bryan said. "Those who benefit the most are the people of Wilson County who can be assured they have a superior K-9 partnership working for them."
Rocky, an eight-year-old Belgian Malinois, will continue to work "as long as he is healthy and able," the K-9 Officer said. "After he retires, I probably won't get another partner. I really can't see myself working another K-9 after being with such an exceptional dog for so long.
Rocky was raised and trained by Dean Hunter, Owner of Canine Command in Hendersonville, TN. Dean trains K-9 dogs for Hendersonville, Springfield and Gallatin Police Departments in addition to others.