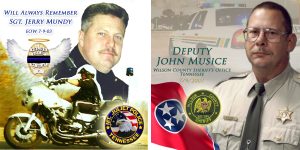 To see the list of law enforcement officers who were killed or lost their life while on duty is heart wrenching. Officers around the world wake up each morning while putting on their badge, giving their wives, husbands, daughters and sons a hug before going on duty not knowing if they will return home. It's every goal of a police officer to return home safely after every shift to their respective families. Sadly, this is not always the case.
Deputy John Musice and Sgt. Jerry Mundy were and always will be heroes to Wilson County by making the ultimate sacrifice. Both officers were killed on July 9, 2003, when they attempted to stop a fleeing felon in a high-speed chase on I-40 after she fled in a stolen car from a Knoxville police officer earlier in the day. Both officers were expecting to go home that evening, but their lives were cut short by the heroics of the job they chose to do by protecting and serving their community they were sworn by oath to do.
On October 1, 1961, Congress asked the president to designate May 15 to honor peace officers. John F. Kennedy signed the bill into law on October 1, 1962. The Proclamation that was signed is to pay tribute to the LEO's who have made the ultimate sacrifice for our country and to voice our appreciation for all those who currently serve on the front lines of the battles against crime.
On May 10th, there will be a local memorial service beginning at 11:00am in Judge Tatum's Courtroom, located at the John W. Musice Building next to the Wilson County Sheriff's Office. Sheriff Robert Bryan will be among the speakers at the service to show reverence and homage to families of LEO's who have fallen in the line of duty.
On May 11th, state services will be held in Nashville at 10:00am at the War Memorial Plaza as we honor those who have been killed in the line of duty both locally and statewide. The Wilson County Sheriff's Office will serve as one of the lead agencies during this week's events while we host the families of many agencies who have lost an officer during the past year.
On Friday, May 12th, Major Robert Stafford, Lieutenant Scott Moore and Deputy David Stolinsky will be attending the National Police Week services held in Washington D.C. and will attend events such as the 29th Annual Candlelight Vigil at the National Mall, the 36th Annual National Peace Officer's Memorial Service held on the West Front of the United States Capitol and the National Law Enforcement Museum that will display a number of artifacts that the WCSO has taken to Washington D.C. in the past years including a patrol car door and motorcycle fairing.
Since 2005, officers have returned to Washington D.C. during National Police Week with one goal, to provide any needed support to the families that are affected by these tragedies that have changed their lives forever. Attending officers show their respect and appreciation to the fallen officers and their families by providing transportation or any other service needed. For first year survivors, the first year can be extremely emotional and difficult. These officers work in a support role for C.O.P.S. (Concerns of Police Survivors).
The WCSO is grateful to be a part in honoring the men and women who gave the ultimate sacrifice by serving and protecting the citizens of their communities.