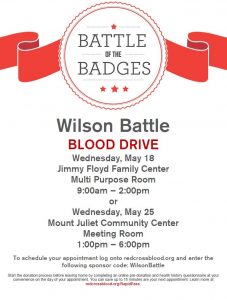 Wilson County Sheriff Robert Bryan is encouraging anyone who can to sign up to donate blood in honor of Law Enforcement or Fire/Emergency Management in the Battle of the Badges Blood Drive, an event that benefits Wilson County in a friendly competition between Wilson County Law Enforcement  and Wilson County Fire/Emergency Management.
"We're in it to win it," said Sheriff Robert Bryan of the 2016 competition for bragging rights between Wilson County's Law Enforcement and Fire/Emergency Agencies. "This year is going to be Wilson County Law Enforcement's year to win the Battle of the Badges."
It's important to sign up as soon as possible for an appointment through the Red Cross. To schedule an appointment, log onto redcrossblood.org and enter the following sponsor code: WilsonBattle. To make it even more convenient for all of Wilson County, the event will take place in two locations on two different dates and times.
The first event is scheduled in Lebanon from 9 a.m. to 2 p.m. Wednesday, May 18, at the Jimmy Floyd Family Center Multi-Purpose Room. The second event is scheduled in Mt. Juliet from 1 p.m. to 6 p.m. Wednesday, May 25, at the Mt. Juliet Community Center Meeting Room.
To save even more time, complete an online pre-donation and health history questionnaire at your convenience on the day of your appointment. You can save up to 15 minutes and skip the waiting time. To learn more, visit redcrossblood.org/RapidPass.
American Red Cross officials say the need for donations becomes even greater just before the busy summer vacation season begins when many regular donors may delay or skip donations because of other summer activities.
"As summer approaches, the American Red Cross encourages eligible individuals to give blood and help ensure a sufficient supply," said American Red Cross Account Manager Brett Crystal. "Every day, the Red Cross must collect 14,000 blood donations to help meet the needs of patients across the country. Your donation may help accident victims, organ transplant patients and those receiving treatment for leukemia, cancer or sickle cell disease."