Services for Longtime Lawman WCSO Lt. Bob Harrison, Set for Wednesday, Thursday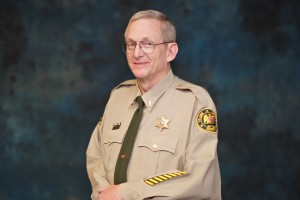 Services for Sheriff's Office Lt. Bob Harrison, who had a distinguished 35-year career in law enforcement, will be held on Wednesday, Feb. 17, and Thursday, Feb. 18.
Visitation for Lt. Harrison, who died Feb. 14, after a long battle with terminal cancer, is scheduled from 4-8 p.m. in the Partlow Funeral Chapel Wednesday, Feb.17, and from 11:30 a.m.-1 p.m.  Thursday, Feb. 18 at the Westland United Methodist Church. A Celebration of Life will follow visitation at the church. Family members have asked that those who choose to participate in the Celebration of Life to please wear casual attire (jeans and khakis) at Lt. Harrison's request. A private burial service will be held for family only.
Lt. Harrison, 61, remained in good spirits right up to the end, according to close friends and family, even planning his own funeral so that his family would not have to worry with the details. Sheriff Robert Bryan announced Lt. Harrison's passing to the Sheriff's Office on Sunday, Feb. 14, upon learning his old friend and former employee had passed away. "Bob was a loyal family man who honorably served his community and the Wilson County Sheriff's Officer with integrity," Sheriff Bryan said. "Bob fought a fight few could and he did it with dignity. He was a warrior and our brother. He was a gentleman and outstanding officer of the law, always helping others and a mentor to many. He knew how to make people feel at ease in his presence, often joking and telling stories, but always the first to volunteer for a dangerous assignment in our profession. He was a friend to us all, and we will miss him profoundly."
Harrison was known for his intellect, quick wit, and tenacity in law enforcement. His career spanned 35 years and included being a Special Agent (toxicologist) with the TBI, a forensic chemist with the Broward County Sheriff's Office in Florida; a detective with the Lebanon Police Department and most recently as Lieutenant and supervisor in the Criminal Warrant Division of the Wilson County Sheriff's Office.
Lt. Harrison was recently awarded the prestigious "Three Stars of Tennessee" First Responders Award from the TN Department of Safety and Homeland Security for recognition of his outstanding service to the State during his long tenure in law enforcement. He was one of only six receiving the "Three Stars of Tennessee" Award to recognize first responders in emergency service, law enforcement and firefighters who have lost their lives or suffered a career-ending injury in the line of duty. Lt. Harrison was one of 20 First Responders recognized during the event held at the Conservation Hall at the Executive Residence in Nashville. Each year since the Sept. 11, 2001 terrorist attacks, the TN DSHS recognizes those who have dedicated their lives for the safety and security of Tennesseans.
Wilson County Sheriff Robert Bryan nominated Lt. Harrison because of his outstanding service with the Sheriff's Office, where he has been awarded the Medal of Valor twice, in 2003 and 2008, for affecting over 1,000 arrests in a single year. The sheriff noted that Lt. Harrison had also received letters of commendation from numerous agencies, including the Kentucky State Police, the North Carolina General Court of Justice Fifth Prosecutorial District, the U.S. Marshal's Service, Immigration and Customs Enforcement, the TBI and local law enforcement agencies across Middle Tennessee.
Lt. Harrison was one of the first Terrorism Liaison Officers trained in Tennessee after 9/11. "Bob has been committed to the safety of the citizens of Wilson County, the State of Tennessee and thousands of others who travel through Wilson County on a daily basis," Sheriff Bryan said of Lt. Harrison. "He has shown a very strong work ethic and willingness to take action as necessary to fulfill his responsibilities by arresting 12,085 people wanted on criminal charges since his employment at Wilson County. Many of these people (Lt. Harrison arrested) have long histories of criminal activities and violence. In doing so, he put his own life at risk in many dangerous situations."
He was one of a team of law enforcement officers who tracked an alleged child sex offender for more than two years across 17 states before last year's successful capture of Stephen Beck, 43, who fled the state after making a $1 million bond following his arrest in 2010 on multiple counts of child rape. Beck was arrested last year in Wilmington, N.C. where he was living under a stolen identity while staying with a friend.
The Wilson County Community showed its support for the terminally ill, beloved law enforcement officer by hosting a variety of fundraisers to help with his medical expenses over the past year.
Lt. Harrison is Mr. Harrison is survived by his wife, Teresa Mahan Harrison; son, Logan (Dianna) Harrison; one grandson, Haden Harrison; brother, David "Doc" M. (Lynne) Harrison; nephew, Davis (Victoria) Harrison; niece, Wendy (Scott) Street; and four great-nieces and nephews. He was preceded in death by his parents, David M "Scotty" and Mary Casey Harrison and brother, Kenneth D. Harrison.
Active pallbearers will be friends. Honorary pallbearers will include past and present law enforcement officers and members of the District Attorney's office in attendance. In lieu of flowers, the family asks that you consider donations be made to "Sherry's Run," an organization dedicated to cancer victims and survivors. Those may be mailed to P.O. Box 8, Lebanon, TN 37087. More information can be found here: http://www.partlowchapel.com/home/index.cfm/obituaries/view/fh_id/12733/id/3600118