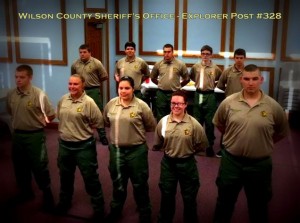 Young people between the ages 13-18 are getting the opportunity to learn about a career in law enforcement through the Wilson County Sheriff's Office Explorer Post #328.
We are currently recruiting students for the Explorer Program that will take classes and learn about various aspects of law enforcement careers. The program, which began in October of 2014, includes more than 60 hours of training in criminal law, officer safety and survival, arrest and search procedures, emergency management, crime prevention, CPR, report writing, crime scene investigation, riding with sworn officers and a host of other skills.
"We are pleased young people in our area are interested in law enforcement, and we hope to get them started on a path to a professional vocation regardless of whether they decide to pursue a law enforcement career," Wilson County Sheriff Robert Bryan said. "It is geared to help young men and women with opportunities in citizenship service, fitness and social responsibility."
The Explorer post is a division of the Boy Scouts of America and is open to all Wilson County students, including home school, have parental approval and must maintain at least a "C" average in school. The Explorers are learning under the guidance of Post Advisers Deputy Jesse Paradis, Deputy Halle Mathis and Rutland Elementary SRO Ashlyn Varvel.
Anyone who is interested in signing up for Explorer Post #328 is urged to complete this Fillable PDF Application and email to smoore@wcso95.org or by mailing the application to: Wilson County Sheriff's Office, C/O Jesse Paradis, 105 East High Street, Lebanon, TN 37087.
FIRST MEETING: THURSDAY, MARCH 30TH, FROM 6 P.M. – 8 P.M. IN THE TRAINING ROOM LOCATED ON THE SECOND FLOOR OF THE WILSON COUNTY SHERIFF'S OFFICE