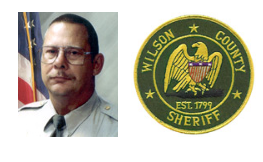 Deputy Sheriff John Wayne Musice
Wilson County Sheriff's Department, Tennessee
End of Watch: Wednesday, July 9, 2003
Deputy Musice and Sergeant Jerry Mundy, of the Mount Juliet Police Department, were struck and killed by a vehicle being pursued by officers on I-40.
The chase had originally gone through Marysville and Knoxville, but officers called off the pursuit and notified other agencies along the highway. When the vehicle entered Wilson County, officers resumed the pursuit again at speeds reaching 140 mph. The vehicle struck Deputy Musice and Sergeant Mundy as they attempted to lay down stop sticks near exit 226.
The two female occupants of the fleeing vehicle were injured in the incident and taken into custody at a local hospital
On June 30, 2004, the driver of the car was convicted of two counts of first degree murder and received two life sentences.
Deputy Musice had been employed with the Wilson County Sheriff's Department for 15 years, and is survived by his wife, six children, and 12 grandchildren.