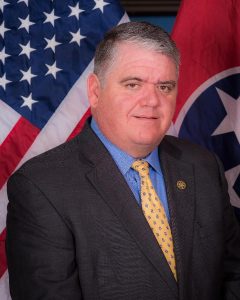 On October 15, 2012, Robert C. Bryan was appointed Sheriff by the Wilson County Commission. He served as Sheriff until the August election in 2014.
In August 2014 and August 2018, Sheriff Bryan was elected by the citizens of Wilson County to serve them four more years.
Sheriff Bryan is a lifelong resident of Wilson County and is a 1988 graduate of Lebanon High School.
Robert C. Bryan began his law enforcement career with the Lebanon Police Department as a patrol officer in 1989. Later he was assigned to the 15th Judicial Drug Task Force where he investigated drug cases in the five county districts. Bryan returned to the police department as a detective in the Criminal Investigations unit. During this time he investigated various crimes from thefts to homicide.
Bryan left the Lebanon Police Department in 1999 and accepted a position at the Wilson County Sheriff's Office Investigation Division. He was promoted to Sergeant over the division and later was promoted to Assistant Chief Deputy having various administrative responsibilities. He was also the Jail Administrator and was instrumental in the planning and transition into the current facility that was opened in 2007.
During his career, he has received various awards and commendations for his service. He has also received several certifications such as Certified Jail Administrator from the United States Department of Justice, Certified Criminal Investigator and Drug Investigator from the United States Drug Enforcement Agency.
The Bryan Family has been involved in law enforcement in Wilson County for many years. Bryan's father, Cecil, was the sheriff from 1968 to 1974. Robert was born in April of 1970 and his younger years were spent at the sheriff's office.
Bryan's grandfather, Pat, served as chief deputy for the late Sheriff Harold Griffin in the early 1960's. He later became the Committing Magistrate and was responsible for issuing arrest warrants.
Robert and his wife, Shelly, married in 1991 and they are members of College Hills Church of Christ. They have two sons, Logan and Austin, and four grandchildren, Patton, Parker, Houston and Millie Jane.
Sheriff Bryan is a member of the Lebanon Breakfast Rotary Club and the Tennessee Sheriff's Association where he serves on the Board of Directors and the TN SAVIN Committee (Statewide Automated Victim Information Notification), as well as the School Resource Officer's Committee and Legislative Committee.
---
EDUCATION
• Tennessee Law Enforcement Training Academy-Post Certification
• DEA Narcotics Investigations
• Special Weapons and Tactics
• Criminal Investigations
• Drug Interdiction/Criminal Apprehension
• Advanced Criminal Investigations
• Search Warrant Writing
• Advanced Techniques for Unsolved Death Investigations
• Major Crime Scene Investigations
• Burglary and Robbery Investigations
• Managing Criminal Investigators and Investigations
• Homicide Investigations
• Law Enforcement Management and Administration
• Federal Bureau of Investigations Crisis Negotiations
• Tennessee Corrections Institute
• Department Of Justice Jail Administrators Certification