WCSO, TBI Solve 13-Year-Old Wilson Co. Cold Case with Indictment, Arrest of Kingsport Man
A Kingsport man has been indicted by a Wilson County Grand Jury and arrested in connection with the 2002 shooting death of a Wilson County man.
Wilson County Sheriff's Office began working the case after a friend of James Hill found him dead in a field where he had been target shooting on East Saulsbury Road in Wilson County on Nov. 19, 2002. The 82-year-old victim, an outdoor enthusiast who collected rifles and loved to target shoot, had been shot to death it was later determined.
"This was a case several of us were determined to solve," said Sheriff Robert Bryan, who worked on the case himself as a detective along with several others including Brian Harbaugh, who later became a TBI agent, and Detective Ricky Knight, who now serves as lieutenant over the Detective Division for Wilson County Sheriff's Office. "Our detectives and TBI worked diligently even though it appeared we had come up empty-handed. With improved technology as it relates to evidence, we were able to connect this suspect (Lawton McNutt) to Mr. Hill's murder. It is now in the hands of the judicial system, where we hope justice will prevail."
TBI Director Mark Gwyn added, "Even though this crime took place more than 13 years ago, the combination of continued investigative measures and advancements in lab technology worked to help provide proof needed to solve a crime, and help offer answers for the victim's friends and family."
Witnesses had reported seeing a small dark-colored truck parked on the side of the road where the victim was target shooting in the field. Detectives tried for years along with TBI agents to determine who had killed Hill, working with evidence they found at the scene. Detectives received new information that led to a suspect in the case in November 2015. On Jan 12, 2016, McNutt was charged with one count criminal homicide/felony murder first degree. He is currently being held without bond in Hickman County until his court hearing. He is scheduled to be arraigned at 8:30 a.m. on Jan. 29, 2016.
McNutt has a lengthy criminal record. Some of the charges include the following:
*In May of 2002, he faced multiple theft charges in Georgia.
*In March 2003, McNutt was charged with attempted murder, aggravated burglary, theft of property and several other burglaries. He was sentenced to 14 years and was released from prison in 2013.
*In September, 2015, the 21st Judicial Task Force arrested him in Hickman County, where he is currently incarcerated for theft over $10,000 and possession of a weapon. He is being held under $25,000 bond. James Hill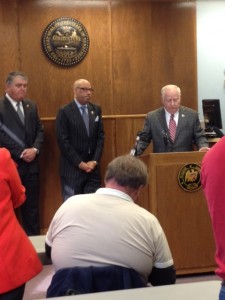 These charges were unrelated to the Hill case.