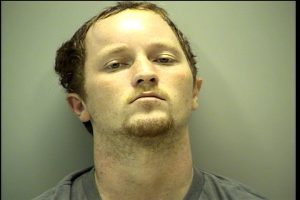 Karma? Maybe. A Wilson County man has been arrested on the tail of a spate of reported car burglaries after he attempted to sell some of the very items he allegedly stole to one of the victims.
The Wilson County Sheriff's Office received several reports of car burglaries over the weekend in the northeastern Wilson County area, which included taking two firearms, a crossbow, ammunition and a large amount of other property. Deputies and detectives set about dividing up the cases, comparing notes and investigating the burglaries.
But what solved the case was a phone call this week from one of the victims who said a man was at his business, trying to sell his own property back to him with claims he had a car "trunk-full" of other items for sale too. Detectives responded to the scene, located the vehicle the suspect was driving and verified numerous items in the trunk belonged to victims of the weekend car burglaries. Dylan Lee Barratt, 29, of Lebanon, was arrested and charged with theft of property at the scene. He is currently in custody at the Wilson County Sheriff's Office jail.
"This arrest could not have gone better if we had planned it," Sheriff Robert Bryan said. "It's not often someone steals items and attempts to sell them back to a victim. It doesn't happen often this way but, we're pleased our victim was paying attention and called immediately to help solve his case as well as that of many of his neighbors."
This is just another reminder to the public to stay vigilant to something unusual you might observe," said Detectives Maj. B. J. Stafford. "Vehicle burglaries statistics reflect that approximately 90 percent of car burglary victims left their doors unlocked. Please do not leave valuables inside your vehicle and be sure to secure it. If possible, place the vehicle in a well-lighted area to attract attention and to deter someone who is intent on breaking in and stealing your property."
The Sheriff's Office reminds everyone if you see anything in your area that looks to be suspicious, please immediately contact the Wilson County Sheriff's Office dispatch at 615-444-1412, or local law enforcement.