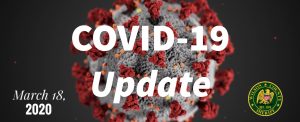 We are working every day to implement safety measures to help minimize the risk of exposure or further spread of the COVID-19 virus not only for our employees, but also for the general public. Effective immediately, the access to the inside of our building will be limited to employees only and mail delivery services.
Citizens wishing to file a report are urged to first contact our dispatch at (615) 444-1412 ext. 0. If the report does not rise to the level of an emergency, you will be contacted at our earliest convenience by a phone call from a deputy that will take the report over the phone. If you come by our office for a walk-in report, a deputy will be made available to speak to you through a glass window. Depending on the situation, the deputy may ask you to go home and do the report over the phone; or, in a dire situation, will take the report through the glass window located in the front lobby of the Sheriff's Office. To obtain a copy of a report, you can request a copy in the front lobby of the Sheriff's Office between the hours of 8:00 a.m. – 4:00 p.m. on Monday-Friday. Please allow 3-5 business days from the time your report was initially filed to when you request a copy. Prior to requesting a copy of your report, please have a copy of your driver's license.
Also in response to the state and national emergency regarding the global COVID-19 pandemic, the Wilson County  Sheriff's Office is immediately suspending the service of all civil process except for papers related to the following:
– Proceedings necessary to protect constitutional rights of criminal defendants, including bond-related matters and plea agreements for incarcerated individuals
– Proceedings related to relief from abuse, including but not limited to orders of protection
– Proceedings related to emergency child custody orders
– Department of Children's Services emergency matters related to child protection
– Proceedings related to petitions for temporary injunctive relief
– Proceedings related to emergency mental health orders
– Proceedings related to emergency protection of elderly or vulnerable persons
– Proceedings directly related to the COVID-19 public health emergency
– Other exceptions as approved by the Chief Justice
***This suspension will continue until further notice. ***
Inmate visitation will continue to be limited to video/electronic visits only as this may be subject to change as we continue to monitor the situation daily.
We appreciate your patience during this difficult time and we are continuing to monitor the situation daily. As we proceed forward, we will keep everyone informed on any changes as it relates to this office.