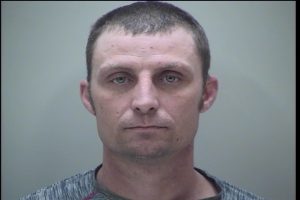 LEBANON (TN) – A local man was taken into custody late Wednesday night after being pulled over for a traffic violation by a Wilson County Sheriff's Office Directed Patrol Unit. James D. White (36), of Lebanon, was charged with Driving on Revoked (4th Offense), Possession of Drug Paraphernalia, Theft of Property, Altering a Temp Tag and Possession of Methamphetamine with Intent for Resale.
 During the traffic stop, consent was given by White for deputies to search his vehicle. During the search, a clear plastic bag filled with a crystal-like substance believed to be crystal meth was located behind the glove box. Also in the bag was a set of working digital scales, a black can that contained several clear baggies and a clear bag with (10) white pills believed to be Xanax. As deputies continued the search, a black container was located above the radio that possessed a small baggie with a clear crystal rock believed to be crystal meth, along with (2) clear smoking pipes with white residue in them.
 "Our Directed Patrol Unit was created in an effort to prevent crime before it happens, such as traffic enforcement and drug trafficking," stated Sheriff Robert Bryan. "Since the creation of our Directed Patrol, they have been very successful by taking an abundance of opioids and weapons off the street. We will continue to show a strong presence in areas where drug trafficking is a problem."
 As of press time, White remains in the Wilson County Jail with a total bond of $14,000. He is scheduled to appear in court on May 6th at 9:00 a.m.