A former Wilson County Sheriff's Deputy Court Officer, paralyzed after a stroke, says he is "so thankful" to Lebanon-based manufacturer, PerMobile, for its donation of a state-of-art wheelchair.
Earl Dyer, the former WCSO Court Officer, is undergoing physical therapy at the NHC nursing home in Smithville for the time being and hoping he will get better. He became paralyzed after suffering a stroke post op on July 16th from a prior surgery. This stroke has left the 49-year-old man's arms and legs essentially useless, rendering him unable to work.
"There's no way to know for sure but his prognosis is that he most likely will never be able to walk or regain use of any of his limbs," Sheriff Robert Bryan said. "He faces many hurdles ahead in his life following this horrible, debilitating, uncertain situation. He has always been an active officer and helped others. He needs our help now."
Tragically, Deputy Dyer's wife, Amy, is also disabled and unable to care for her husband. They have no children or relatives able to help them. Earlier this month, the once-active court officer exhausted all annual, sick time and all available sick bank time allowed by employment policy. His disability income for now is $1,200 each month and must pay $1,600 for insurance, leaving nothing for other vital expenses.
John Richards, regional vice president of sales for PerMobil, heard of the former officer's condition and decided to see what he could do to "give back to our community." Richards, whose firm manufactures medical mobility equipment throughout North America and other countries, arranged to have a customized wheelchair made up and donated. The chair allows the former deputy to be mobile again and even allows him to stand up with a flip of a control on the chair, now decked out with blue lights and WCSO emblems. Dyer said of the chair PerMobil presented him Thursday, "This is like a dream come true. I cannot tell you how thankful I am. This is awesome."
Dyer remains optimistic he will one day be able to regain use of his arms and legs and go back to work. "I have faith I am going to get up and walk one of these days. I am going to be able to walk and used both of my arms, and be as health as I was once before."
Deputy Dyer now needs a special wheelchair van along with other needs. The Sheriff's Office is holding a variety of fundraiser to help raise money for the disabled former employee. The next event will include a Live Auction scheduled for 6 p.m. Saturday, Dec. 5, at the Capitol Theatre.  Meanwhile, those who would like to help are encouraged to make donations through an account at CedarStone Bank on West Main in Lebanon, TN in the name of "Earl Dyer Fund." Contributions may also be dropped at the Criminal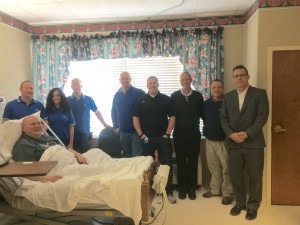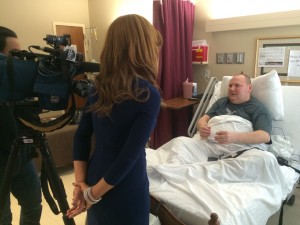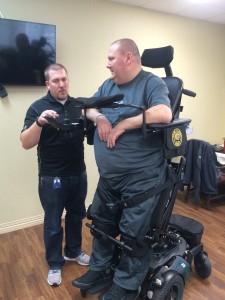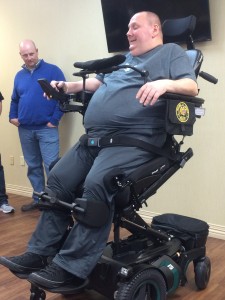 Justice Center (located adjacent the sheriff's office located at 105 E. High Street) or the Judicial Center, 134 S. College St. WCSO will update everyone on the WCSO's progress as we prepare for this long, arduous journey for the Dyers Sheriff Bryan noted.
You may also make contributions to a separate GoFundMe account at this website: https://www.gofundme.com/earlamydyer