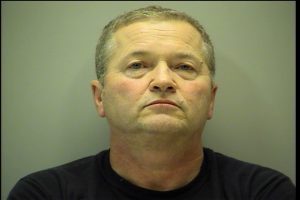 A Wilson County man has been arrested for sex charges involving a minor after a lengthy investigation by WCSO detectives.
Daniel V. Fanning, 55, of Lebanon, was arrested Thursday and charged with a count of solicitation of a minor and a count of soliciting the sexual exploitation of a minor. He remains in custody under $50,000 bond. He is currently scheduled to appear in court at 9 a.m. on Dec. 8.
The investigation was initiated after a concerned parent contacted the sheriff's office after the juvenile daughter told her parent she had received several disturbing and unsolicited messages of a sexual nature. After reporting the incident to the Wilson County Sheriff's Office, an investigation was initiated which soon revealed the identity of the person suspected of sending the disturbing messages.
Fanning was employed by the Rutherford Co. Sheriff's Office as a corrections officer at the time of his arrest. He is a former police officer of the Watertown Police Dept. and the Wilson County Sheriff's Office.
"Our agency wants clarify that an individual's profession or status in society has no impact on the determination or our obligation to protect the citizens of Wilson County," Sheriff Robert Bryan said. "Any person who has been accused of a crime will be investigated thoroughly. If sufficient evidence exists of a criminal violation, that person will be charged accordingly. Anytime a person conducts themselves in this manner is regretful, especially when that person is in a position of public trust. We have no tolerance for this type of behavior in Wilson County."
The sheriff commended the juvenile victim for her actions. "She did exactly as she should have and notified her parents immediately after receiving these messages," Sheriff Bryan said. "I would just like to remind parents that their children's mobile device is a privilege and should be monitored closely. There is a constant threat of offenders preying on children whether it is for sexual or other potentially dangerous intentions. Unfortunately, this is an every-day occurrence in our society."
Parents are urged to closely monitor any devices in their home, especially those used by their children, and to report any suspicious or concerning activity they notice to their local law enforcement agency.