WCSO to Present Case after Detectives Arrest Two in String of Church Burglaries
 Wilson County Sheriff's Office detectives along with Lebanon Police arrested two men Saturday night in connection with a string of church burglaries in the city and county. Sheriff Robert Bryan said his office will present more charges to the Wilson County Grand Jury at a later date.
Early Saturday, detective with both departments arrested Trevon Kyle Lawson, 26, of Lebanon, and Giles Jacob Timbs, 25, also of Lebanon. Both were charged with one count each of burglary with bond set at $7,500. They have a court date set for Aug. 4, 2015.
After reports of several church burglaries over the past few months, WCSO detectives developed a lead on the suspects in connection with several church burglaries in Wilson County and Lebanon. Detectives had been working surveillance for some time when they spotted the two men leaving the Hunters Point Celebration Center, 2232 Hunters Point Pike. After the suspects left, dectives checked the building and discovered a rear window had been removed. Wilson County and Lebanon Police detectives stopped the pair and discovered a cash register in the back seat later determined to have been taken from the Celebration Center. They were taken into custody without incident following the traffic stop at North College Street and East Main.
"This case is an excellent example of good, solid police work," Sheriff Bryan said. "Our detectives developed a lead through various sources and lots of leg work. They worked this case around the clock, conducting surveillance of the suspects, and it paid off with these arrests."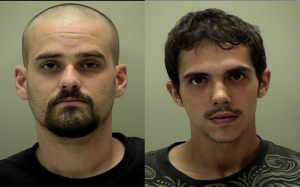 Lebanon Police charged the pair in the city, however, both agencies will present evidence of more church burglaries in which the two men are also suspected of burglarizing.