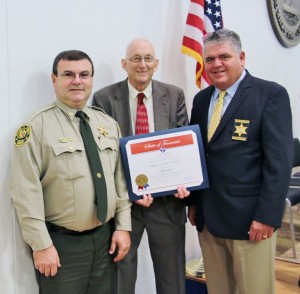 WCSO Lt. Bob Harrison Receives TN Homeland Security Special First Responders Award
Wilson County Sheriff's Lt. Bob Harrison has been awarded the prestigious "Three Stars of Tennessee" First Responders Award from the TN Department of Safety and Homeland Security for recognition of his outstanding service to the State during his long tenure in law enforcement.
Lt. Harrison, a 35-year law enforcement officer in various roles, was one of only six receiving the "Three Stars of Tennessee" Award to recognize first responders in emergency service, law enforcement and firefighters who have lost their lives or suffered a career-ending injury in the line of duty."
Lt. Harrison, who is currently on leave while fighting two types of cancer, is also one of 20 First Responders recognized during the event held at the Conservation Hall at the Executive Residence in Nashville. Each year since the Sept. 11, 2001 terrorist attacks, the TN DSHS recognizes those who have dedicated their lives for the safety and security of Tennesseans.
Wilson County Sheriff Robert Bryan nominated Lt. Harrison because of his outstanding service with the Sheriff's Office, where he has been awarded the Medal of Valor twice, in 2003 and 2008, for affecting over 1,000 arrests in a single year. The sheriff noted that Harrison has also received letters of commendation from numerous agencies, including the Kentucky State Police, the North Carolina General Court of Justice Fifth Prosecutorial District, the U.S. Marshal's Service, Immigration and Customs Enforcement, the TBI and local law enforcement agencies across Middle Tennessee.
Lt. Harrison was one of the first Terrorism Liaison Officers trained in Tennessee after 9/11. "Bob has been committed to the safety of the citizens of Wilson County, the State of Tennessee and thousands of others who travel through Wilson County on a daily basis," Sheriff Bryan said of Lt. Harrison. "He has shown a very strong work ethic and willingness to take action as necessary to fulfill his responsibilities by arresting 12,085 people wanted on criminal charges since his employment at Wilson County."
Sheriff Bryan further noted, "Many of these people (Lt. Harrison arrested) have long histories of criminal activities and violence. In doing so, he put his own life at risk in many dangerous situations."
The awards, whose legislation for the "Three Stars of Tennessee Award" was sponsored by TN Sen. Becky Duncan Massey in 2014, were presented by Massey, Jim Henry, deputy to Gov. Bill Haslam, and DSHS Commissioner Bill Gibbons.
"Today is a special day in Tennessee as we recognize the men and women who risked and gave their lives as public safety professionals," Commissioner Gibbons said at the presentation. "Our hearts go out to the families who have lost loved ones in the line of duty. We are grateful for their service and honor their memories today."
Lt. Harrison's career includes being a Special Agent (toxicologist) with the TBI, a forensic chemist with the Broward County Sheriff's Office in Florida; a detective with the Lebanon Police Department and currently as Lieutenant and supervisor in the Criminal Warrant Division of the Wilson County Sheriff's Office.