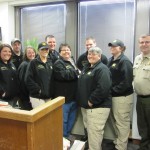 The Wilson County Sheriff's Office is recognizing its front-line heroes during National Telecommunicators Week April 12-18.
"Although many people realize the importance of the crucial work telecommunicators do," Sheriff Robert Bryan said, "it sometimes takes such tragedies as Sept. 11, 2001 to remind the public of the vital role our communications professionals play in life-or-death situations. We truly commend them for their work."
During the week, the Sheriff's Office hosted a luncheon for the communications staff and presented new jackets and door prizes as tokens of appreciation for their hard work and commitment to their duties.
"We are pleased to honor our rarely recognized men and women who save lives every day with their ability to calmly help others in many stressful and often dangerous situations," Patrol Major Lance Howell added. "This is a just a small way to reflect on the role of 911 operators."
Each year, the second full week of April is dedicated to public safety telecommunications staff. The official name of the week was originally introduced by Congress in 1991 under the name "National Public Safety Telecommunicators Week."
This is also a time to remind the public to always only dial 911 in cases of emergency. If you accidentally dial 911, stay on the line and explain your mistake rather than hanging up. This often means dispatching resources to a perceived but non-existent emergency often tying up resources for true emergencies.
During the past year, dispatchers received 26,484 calls. Of those, 1,870 were hang-up calls. There were an estimated 2,069 burglar alarm calls and 1,197 auto property damage calls. The busiest days of the week were Friday (4,125) followed by Monday (3,937) and then Saturday (3,877).