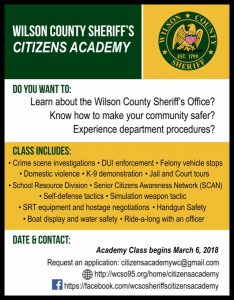 Sheriff's Citizens Academy to begin taking applications for Class #10
The WCSO Sheriff's Citizens Academy will be accepting applications from now until March 6 for Class #10. The academy will hold up to 25 citizens who will complete a twelve week course which will start on Tuesday, March 6, and run from 6pm-9pm every Tuesday for the twelve week duration. All applicants must pass a background check. There are no minimum physical requirements. Every citizen that lives or works in Wilson County are welcome!
The purpose of the Sheriff's Citizens Academy is to foster better communications between citizens and deputies through education and cooperation. A well-informed citizen is more likely to share their experience with the community as the opportunity arises. Everyone benefits from enhancing citizens understanding of the role and function of the Sheriff's office.
You can find the application form by picking up a copy from our dispatch center located at the WCSO front entrance and mail them in to: Wilson County Sheriff's Office, C/O Lt. James Lanier, 105 East High Street, Lebanon, TN 37087 or drop them off at our dispatch. You can also access the fillable PDF application online at http://wcso95.org.