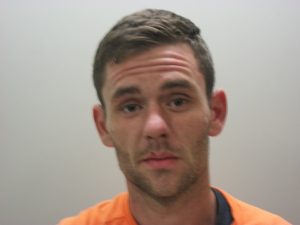 LEBANON (TN) – After releasing a video on the WCSO's Facebook page on October 13th of a burglary and theft that occurred from a local business on East Old Murfreesboro Road, tips started to pour in from viewers that allowed investigators to build a suspect profile on the case. Daniel Austin Duke (25), of Lebanon, was identified as the suspect and taken into custody on multiple charges after leading deputies on a chase Sunday night.
 Deputy Bryce Beaty was able to identify the suspect vehicle while patrolling on Highway 109. As Deputy Beaty caught up with the vehicle, he observed the vehicle failing to maintain its driving lane on several occasions. When Deputy Beaty activated his emergency lights in an attempt to stop the vehicle, the driver (later identified as Duke) sped off at a high rate of speed leading deputies on a chase that ended in a field located off of Beckwith Road.
 "After posting the video of a local business being burglarized on our Facebook page, we immediately started receiving tips that were consistent on one individual that enabled our detectives to investigate Duke as the possible suspect," stated Wilson County Sheriff Robert Bryan. "Detective Justin Cagle, who was assigned to the case, took the intel we received and communicated that information to our patrol division and surrounding agencies. Because of Deputy Beaty's vigilance, Duke is now in custody on a multitude of charges."
 Duke was transported to the Wilson County Jail and charged with: Theft of Property, Reckless Driving, Burglary of a Motor Vehicle, Evading Arrest x2, Vandalism, Reckless Endangerment, Tampering with Evidence, Possession of Drug Paraphernalia, Possession of Schedule II (Oxycodone), Possession of Schedule II (Hydrocodone), Possession of Schedule VI (Marijuana), and Driving on a Revoked License x2. Duke remains in jail with a total bond amount of $39,500.