Car Vandalism Allegations Lead WCSO Deputies to Arrest of Known Drug Offender
 What began as what was thought to be a routine car vandalism car led Wilson County Sheriff's Deputies to arrest a man who had a substantial amount of marijuana and cash packaged for resale. He was also a parolee out of Davidson County where he had multiple drug charges.
The case began when a woman called the sheriff's office Thursday morning, complaining she had awakened to find her car badly damaged. She reported it to be an apparent vandalism and asked officers to investigate. When officers arrived at the victim's Lebanon home, they advised it appeared to have been crashed. Tennessee Highway Patrol was alerted to investigate the crash.
Meanwhile, the woman told officers she believed the suspect in the case to be someone who had been staying at her home during the night later identified as William Marquise Woods, 28, of Nashville. She asked officers to check her home for the suspect, and gave permission for them to enter if he did not open the door.
Deputies Zack Hemontolor and Greg Metcalf knocked on the door and when no one answered, they entered to discover the back door of the home standing open. They believed the suspect had apparently fled on foot and subsequently began searching for him. A short time later, deputies found him walking at 945 E. Baddour Parkway.
As the deputies exited the car, Woods was seen throwing something from behind his back into a nearby ditch. Authorities later determined it was plastic bags of marijuana along with cash inside one bag. Upon further investigation, the deputies determined Woods was on parole out of Nashville for several drug charges.
"That was a great job by our deputies getting a known drug offender off the streets," Sheriff Robert Bryan said.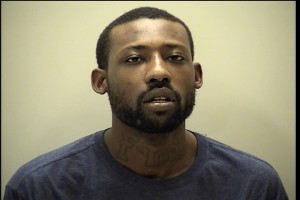 The suspect was taken to the Wilson County Jail where he was booked on charges of possession of Schedule VI drugs (marijuana) with intent to sell. He remains in jail under $5,000 bond and is scheduled to face charges on May 24 in General Sessions Court.