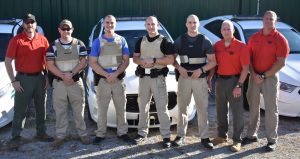 Please join us in sending good luck wishes to four of our correctional officers as they begin the twelve week Basic Police School at the Tennessee Law Enforcement Training Academy (TLETA) on October 1st. These candidates were selected from a group of twenty-two correctional officers who applied for the open positions. Each candidate had to go through an oral interview and physical agility testing. On top of their current assignment inside the jail, the four candidates have participated in weekly training to prepare for the twelve week basic course. Training consisted of weekly fitness assessments, legal, ethics, policy and procedure, traffic stops, searching techniques, and firearms training.
All four candidates will transfer from the Corrections Division and will be assigned to the Patrol Division upon completing the Basic Police School at TLETA.
The four candidates that were selected were Kevin Beaty, Chris Corley, Hunter Pryer and Hunter Warren. The WCSO wishes you the best of luck as you begin another journey in your career!